Todd-Wadena Electric Co-Op
550 Ash Ave NE • Wadena, MN 56482
US
Todd-Wadena Electric Cooperative is a rural electric system in central Minnesota that is owned and controlled by the members to whom it supplies service. It is a non-profit, taxpaying, privately-owned, locally-managed cooperative utility.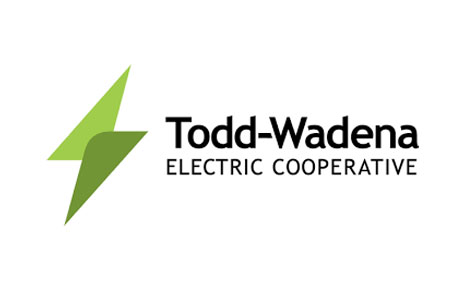 Todd-Wadena was organized in 1940. It now serves nearly 8,000 members with about 2,200 miles of line. Todd-Wadena's service territory includes a majority of the rural areas of Todd and Wadena counties along with portions of Becker, Cass, Douglas, Hubbard, Ottertail and Morrison counties.
Todd-Wadena is governed by a seven-member board of directors, elected by the membership at the Annual Meeting. The cooperative employs 25 full-time and 2 part-time employees. Total assets at the end of 2012 were about $40 million. Power suppliers areGreat River Energy (85%) and Western Area Power Administration (15%).